Episodes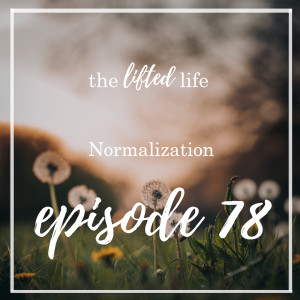 Tuesday Apr 14, 2020
Tuesday Apr 14, 2020
Episode Seventy-Eight of The LIFTED Life Podcast: Normalization
In episode 7
8
we're
talking
about how NORMALIZATION is the natural state for the brain and it can either be used in our favor, or it can keep us stuck.
In this show we talk about how the brain is primed to keep us safe.
We also share about how the brain normalizes everything we do and anything we want to practice or change, we can do so by creating a "new normal."
Learning about this *might* just be the game changer you need to kick those habits that aren't useful for you...
Find episode
7

8

of The Lifted Life Podcast and all of the other
episodes
of the show on our

website

, on

iTunes

, or wherever you listen to podcasts.
Thanks for your support of the show. If you love the episode, be sure to share it with a friend.
If you've been enjoying the podcast, we'd love it if you'd help us spread the word about it, by sharing it with a friend!